The holiday season is around the corner and the shopping mood is already set! Are you excited to know what Whizlabs has in store for you this year? Here's announcing our exciting BLACK FRIDAY SALE 2021!
Starting from 23rd November 2021, this mega offer frenzy will last till the 2nd of December 2021. That's right, 12 long days to keep the celebration going!
Highlights of our Black Friday Sale 2021:
Upto 60% off on all Online Courses & Practice Tests

Upto 35% off on all Premium Subscription plans

Daily Social Media Quiz

Whizlabs SWAG Kit Contest

Informative Webinars

Lab Challenges
Whizlabs is all about Online Courses, Practice Tests, and Hands-On Labs. With a training library consisting of more than 250 courses, we cover various disciplines such as Cloud Computing, DevOps, Cyber Security, Java, Microsoft, Big Data, Agile, Linux, IT Ops, Business Analysis, Blockchain, Blue Prism, and many more.
With the highly increasing demand for certified experts in the IT industry, it has become crucial for professionals to keep upskilling themselves. We're sure you must have set certain career goals to achieve at the beginning of this year. If you are yet to tick off some of these goals from your to-do list, here is a golden opportunity! The Whizlabs Black Friday Sale 2021 helps you with exactly that! Now you can get access to our world-class content at the most unbelievable prices. Keep reading to learn more!
Here's how our special discounts look!
We're starting this big sale with a maximum discount of a flat 60% off on all our Online Courses & Practice Tests, and a flat 35% off on our Premium Subscription plans, from 23rd to 25th November.
Refer the below image for details around the discounts we plan to offer during the Black Friday Sale 2021.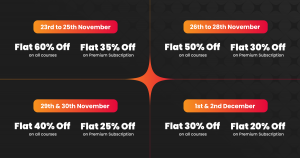 What's more?
Big discounts are not the only reason to celebrate this year. We have brought a lot of interesting activities for all you learners to have a really good time while making the most of our Black Friday Sale. Here is an outline of the top activities that would highlight this year's Black Friday Offers.
Daily Social Media Quiz

:

Our trademark social media quiz, WhizQuiz, makes a ceremonial return on this year's Black Friday Sale.

 Every day for the next 12 days, we will be posting an interesting question on our social media channels

. One lucky winner will be announced every day and rewarded with an Amazon Gift Voucher worth $20. All you have to do is answer the question in the comments section. Make sure you have followed us on all the channels (

Facebook

,

Twitter

,

Instagram

, and

Linkedin

) to not miss the quiz.

Whizlabs SWAG Kit Contest:

After the huge success of our #100DaysOfCloud challenge, and after receiving multiple requests from our learners, here we bring another fun contest for all the cloud enthusiasts! We have identified 7 easy tasks for you to complete and 3 lucky winners will be rewarded with our specially crafted Whizlabs SWAG Kit worth $100 for each winner.
How can I win Whizlabs SWAG Kit?
As a part of the Whizlabs SWAG Kit contest, the participants will be asked to complete seven simple but interesting tasks in order to be eligible for the lucky draw. 3 winners will be selected on a lucky draw basis who will get our special Whizlabs SWAG Kit which includes exciting goodies worth $100 for each winner.
Keep reading to know the details of all the seven tasks!
1. Score more than 70% in a Free Test
At Whizlabs, we have a Free Test for every certification course that is available on our platform. Your first task is to visit our Free Test Page and choose any test of your choice and attempt it. Take a screenshot of your result once you score a minimum of 70% in that test.
2. Invite Three friends to participate in the contest
Sharing makes a challenge more fun! Tag your friends/colleagues asking them to participate in this contest by sharing this blog on your social media profile (Linkedin/Twitter/Facebook/Instagram). Don't forget to tag our page @Whizlabs. Once posted, take a screenshot as a proof of your post. You will be asked to upload these proofs later.
3. Complete at least 1 AWS Lab Challenge
We have launched 3  lab challenges on AWS for you to test your hands-on knowledge of cloud in a real-time environment. Sign up/Sign in on www.whizlabs.com first and then visit AWS Lab Challenges to attempt. Choose any 1 lab challenge of your choice and download the validation report or take a screenshot of the successful completion of the lab challenge. 
4. Trustpilot review of your Whizlabs experience
By the time you reach this task, you would have a fair experience of the Whizlabs training material and our Hands-On Labs platform. Your fourth task is to drop an honest review of your Whizlabs experience on Trustpilot. Sign in/Sign up on Trustpilot and visit drop your review. Once reviewed, take a screenshot of your review.
5. Share a Whizlabs blog on social media
If you are a regular reader of the Whizlabs Blog, you would know that it is nothing less than a knowledge treasure for tech enthusiasts. Your next task is to visit our blog and share your most favorite article on social media (Linkedin /Twitter /Facebook /Instagram). Again, don't forget to tag our page @Whizlabs!
6. Watch our YouTube video and comment with your favorite part
Watch our exclusive interview with cloud expert Ahethaysham Ahmed where he talks about his journey of achieving 22 cloud certifications. For this task, you have to watch the interview and comment with your most favorite part in the comments section! Take a screenshot of your comment once posted.
7. Join us for a group picture during our webinar
Yes, you heard that right! We are back with the webinars. For your final task of this contest, all you need to do is register for at least one webinar and attend it LIVE. At the end of every webinar, we click a picture with all the attendees. Make sure you are a part of that picture, and take a screenshot of it. Below are the webinar details:
How to submit the proofs for Whizlabs SWAG Kit?
Once you have completed all these easy tasks, please submit your entry by attaching all your screenshots/proofs via emailing us at [email protected]. 
You can submit your entries latest by the end of 2nd December 2021. The 3 lucky winners will be announced on 3rd December 2021 after considering all the valid entries! Please note, only genuine entries will be eligible for the lucky draw. All the suspicious/fake entries will be removed from the contest.
Closing Statement
We hope you are as excited for this contest as we are. For any queries, please feel free to reach out to us at [email protected]. We wish you the best for your upskilling journey!