AWS vs Azure: which is better? Which cloud platform shall I choose for my business? Which one shall I choose for my career? Why should I care about the differences anyways? 
If you are on a quest to find these answers and wish to make better decisions, you are at the right place. This blog will walk you through a detailed analysis of Azure vs AWS, key differences, expansions, individual growth trends, which one is suitable for your career, and so on. 
Let's dive in. 
The cloud platform domination: AWS
Launched in 2006 as a sister company of Amazon, AWS provides an on-demand cloud platform and APIs for companies, govt organizations, individuals, etc. Customers who frequently use AWS services can purchase individual virtual AWS systems, physical computers, or clusters of both. Numerous factors determine the cost of AWS services, viz., usage, operating system, or networking capabilities, along with availability, redundancy, and security needs.
Undoubtedly, AWS is the unprecedented king of cloud platforms and has contributed to the welfare of society in many ways. For instance, organizations like NASA use AWS as a centralized location to store videos, audio, and images of galaxies far away. 
Moreover, non-profit organizations like People In Need use AWS to scale early warning systems to send alerts to 400,000 people in Cambodia about floods and storms. The concept has helped the organization save countless lives and offer practical and affordable solutions to tackle hazard-prone areas effortlessly. 
Azure: The intruder
The Azure Cloud, launched in 2010,  is a Microsoft cloud service for developing, testing, and deploying applications and services through data centers directly under Microsoft's management. Numerous tools, frameworks, and programming languages are supported by it. With a market share of 18%, Microsoft's Azure cloud is the second-most famous cloud behind AWS and offers over 600 services like  PaaS and IaaS.
Speaking of use cases, the Weka Smart Fridge used the Azure IoT suite to keep vaccines adequately stocked, assisting nonprofit medical institutions to guarantee facilities to people having little to no access to immunizations. 
Interestingly, Azure has also helped frame solutions for the world's imminent freshwater catastrophe. Working with Microsoft Azure, Nalco Water designed apps and tools to aid businesses in water reuse and to recycle through cloud computing and top-notch data analytics. 
AWS vs Azure: Key differences between the two ruling cloud platforms
AWS and Azure resemble each other in myriad ways, apart from being high-performing cloud platforms. They vary in mechanisms, services, privacy and security features, implementation, and more. So to gain a comprehensive view of both the cloud platforms, here's a sneak peek at the critical differences between AWS and Azure. 
Computing power provisioning and usage
Scalability is a prime issue when working with clouds. To tackle this challenge, AWS prefers using EC2. Resource footprints in EC2 help increase or reduce shrink whenever required and help leverage the elastic compute resource provisioning. Additionally, EC2 users can create virtual machines (VMs), pick machine images (MIs), and modify and customize them.
On the other hand, Azure users can build VMs using virtual hard disks (VHDs) to ensure scalability and load balancing. The main difference is that EC2 is easily customizable to align your needs, while Azure VMs work with cloud-implementation tools.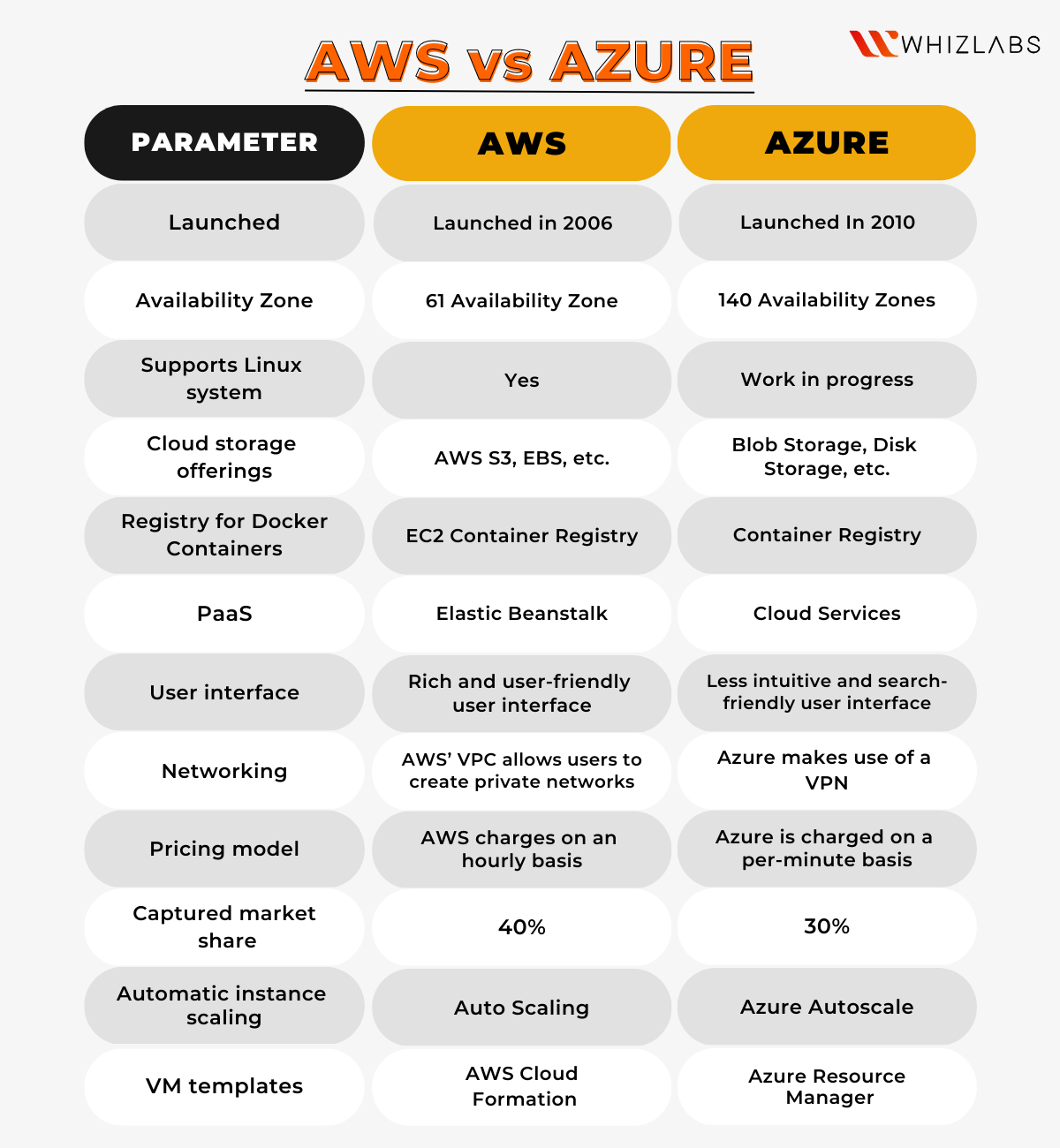 Cloud storage
AWS and Azure provide cloud storage services that are different from each other in many ways. AWS offers storage services like Amazon S3, Glacier, and EBS, while Azure offers blob storage, disk storage, and standard archive. 
However, AWS holds a slight advantage over Azure when it comes to storage. AWS users can enjoy scalable, secure, robust storage for structured and unstructured data and also a 5 TB object size restriction. Azure, on the other hand, offers Azure Queues, Azure blogs, Azure Tables, Azure files, etc., and has a 4.75 TB limit. 
Security and Privacy features
AWS does a great job at choosing secure options and configurations by default, guaranteeing increased privacy. Azure uses Microsoft's Cloud Defender service, which uses artificial intelligence to safeguard against new and evolving data security and privacy threats. However, some Azure services, such as those that launch VM instances with all open ports unless otherwise specified, could not be entirely safe by default.
Pricing models
AWS and Azure both have affordable prices and a pay-as-you-go pricing structure. Both AWS and Azure offer complimentary initial features that help users better understand the methods to link their systems with on-premise software. AWS charges on an hourly basis, and instances are available for purchase:
On-demand: Pay just for the goods and services that you utilize.
Spot: Offer to purchase additional capacity
Reserved: Pay a one-time fee to hold an instance for up to three years.
On the other hand, Azure users can benefit from a more precise price component than AWS because it is charged per minute. You can also make short-term commitments and select between prepaid or monthly fees. On Azure, shorter-term subscription levels offer additional flexibility. You may also improve private business networks into the cloud with the correct functionality thanks to pricing for Microsoft Azure using BT MPLS ExpressRoute.
However, when the two are compared, Azure appears to be more cost-consuming and can later add up to your organization's cloud expenses in the long run. Azure instances are a good illustration of this since they increase in cost as their size increases. Azure will sadly charge more than double for 256GB RAM and 64vPCU config, which is much less when used on AWS.
Container orchestration support
AWS offers native Docker support for containerization along with container services for use cases, including IoT, mobile app development, and the creation of desktop computing environments. 
Conversely, since it provides Hadoop support through Azure HDInsight, Microsoft is on par with AWS in this regard and may surpass it. With Windows Server 2016, you can integrate Docker with Windows and Hyper-V containers in Azure, and containers can also run on Linux or Windows.
However, AWS uses Elastic Beanstalk, which supports Docker files via a command-line interface to execute containerized apps. Azure carries out the same action using App Service, though the procedure is a little more difficult because you need to operate the container inside a web app.
Database features
Both solutions provide countless database services to manage extensively organized and unstructured data. AWS users can benefit from Amazon RDS for data management durability, while Azure users can use the Azure SQL server database capability.
Amazon's RDS depends on six pillars: MariaDB, Amazon Aurora, MySQL,  Microsoft SQL, PostgreSQL, and Oracle.
Concerning Azure, the SQL server database is entirely based on Microsoft SQL. AWS offers more excellent provisioning and instances, whereas Azure has a seamless UI. These services, which provide analytics and extensive data capabilities, are relatively equivalent regarding their geographic coverage. Elastic MapReduce (EMR) from AWS and HD Insights from Azure offer similar services. The Cortana Intelligence Suite, which includes Spark, Hadoop, HBase, and Storm, is also available to Azure users.
Interestingly, AWS offers a more developed platform for handling extensive data than Azure. NoSQL and relational databases are compatible with these systems, and they are generally accessible, durable, and offer straightforward, automatic replication. Although AWS provides:
More instance types.

Using Azure's tooling and the interface is relatively simple.

Making it simple to carry out many database tasks.
Azure vs AWS: Who is ruling the market
Both Azure and AWS are at the peak of their market shares. They fight for the more significant piece of cloud growth and take industries by storm with never-ending innovations. 
Starting with Azure currently holds 29.4% of all installed apps workloads and has revenue growth of a whopping 90%, doubling the growth volume of AWS. However, the market share is stagnant, somewhere around 10%. 
On the contrary, AWS holds 41.5% of the total app workloads, with a market share of 47.1% and a revenue of $3.66 billion. 
AWS vs Azure: which one is best for your career path 
Money isn't everything; it shouldn't be the only consideration while you analyze AWS vs Azure for your future cloud career. Choosing the certification that promises the most outstanding average compensation seems logical. But there are other factors to consider, and you would like to think twice before jumping onto the bandwagon.
Also, remember that greater market dominance for a cloud platform sometimes translates to better remuneration for the experts who use it. Having experience on a small but expanding platform might pay off financially. For instance, some certifications of Azure are unique and have the highest average pay for cloud workers than AWS.
Again, that said, AWS offers more guarantee of employment than Azure, indicating the skyrocketing demand for AWS skills in the industry. It is also beneficial to go deeper into a specific skill set or expand into other cloud platforms. 
In fact, it doesn't matter if you start with AWS or Azure; it's always the right time to cross-certify and expand in both cloud platforms. Gaining a solid hold of both AWS and Azure will enhance your capabilities and help accelerate your career. 
Azure vs AWS: the certification scenario
Azure and AWS certifications come with their individual baggage of merits and demerits and can kickstart your cloud career in 2023. To make it easier for you to analyze the AWS vs Azure certification, let's glance at both benefits.
To begin with, AWS certification enjoys more popularity since it is more marketable and fulfills the uncountable needs of businesses. In addition, you gain exclusive access to the AWS-certified LinkedIn Community and AWS experts to prepare a better learning path for AWS. 
Some of the popular AWS certifications include: 
Conversely, Azure certifications will help you gain an edge over all the services covered under the Microsoft Azure umbrella and in-house data platforms. Interestingly, around 55% of Fortune 500 companies use Azure infrastructure and seek certified professionals to handle their ecosystem like a pro. 
Microsoft Certified: Azure AI Fundamentals – Exam AI-900

Microsoft Certified: Azure Fundamentals – Exam AZ-900

Microsoft Certified: Azure Data Fundamentals – Exam DP-900

Microsoft Certified: Security, Compliance, and Identity Fundamentals – Exam SC-900
Azure vs AWS: Who should you go for in 2023? 
Time to find the answers to the million-dollar question. Azure vs AWS: what should be your choice for 2023? Here are some quick answers.  
AWS vs Azure: for business
If you are choosing for your business and want an affordable cloud platform solution, then go for AWS. 
AWS vs Azure for scaling and agile development
To scale and migrate seamlessly and implement better security solutions, go for Azure. 
Both platforms are at their peaks and offer opportunities and scope above and beyond. Cross-expansion of skills for both these platforms will give you a long way to go. 
Summary
Hope this blog helps you view AWS vs Azure cloud platforms from various avenues and nuances. It all depends on your business needs and the career objectives you list. Speaking of Azure vs AWS careers, you need authentic and updated training programs and materials to begin your learning journey. 
Therefore, Whizlabs offers you more than 200+ training programs, including all popular AWS and Azure courses. These are tailor-made for all levels of cloud enthusiasts and offer practice papers with exhaustive answers, video lectures, hands-on labs, and sandboxes so you can create a strong base for both AWS and Azure platforms. 
Does this intrigue you? Discover more about AWS and Azure by talking to our consultants. Reach out to us today.